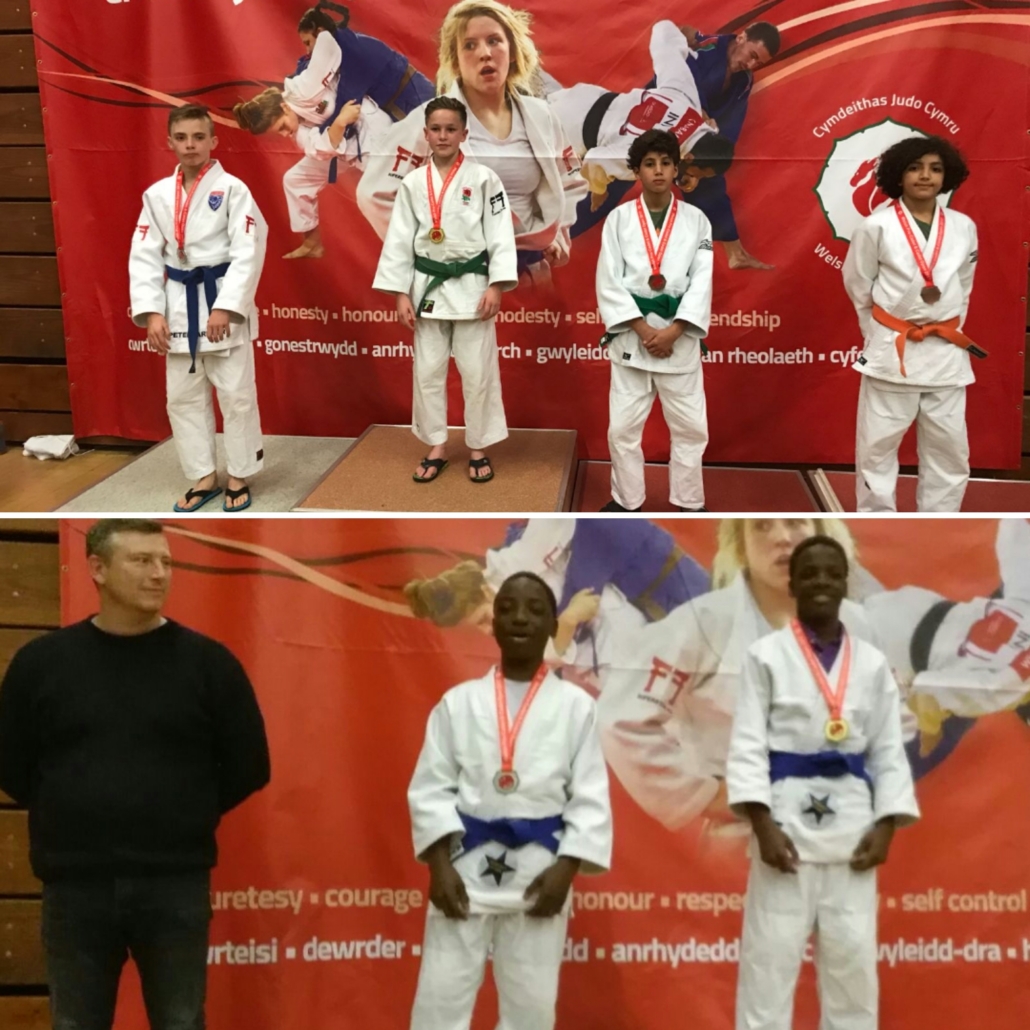 Moberly Stars in Belgium, Wales and Harlow
Moberly stars have been all over the place in recent weeks. Holland, Belgium, Wales and just round the corner in Harlow..
Last weekend juniors, Tyrese, Reuel, Michael, Mohud and cadet Dinari traveled to Belgium where all gained good experience in the Flanders judo Cup event.
This weekend at the Welsh Pre-cadet and Cadet Championships Kamal and Kyle once again competed for gold and silver in the u46k. Another great performance from the twins in a really tough group. Brothers Omar and Ali
were also in the medals in the u38k both winning bronzes after some epic encounters. Luan was also showing his devasting throwing ability winning the u55k. Brother Liam was 5th in the u38k, losing to Omar and Oliver Almond was placed 7th. Corey (u50), Diva (u36k) and Maddie (u52) all gained excellent experience. In the Cadets Dinari (u50k) and Amel (u52k) both missed out in their bronze medal finals placing 5th. While Alex also gained further experience in the u50k.
Over in Harlow the red and yellow belts were enjoying a lovely event at the Green belt and below competition. For some it was a first competition at this level.
Golds for Myeisha, Cheyenne, Myia, Parnell, Stefan and Omar was just rewards for their efforts. Silvers for Malayah, Tyler, Kristians, and Tomasso. Bronzes for Aaliyah, Sheziyah, Alexander, Maxsim, Mohamad, Ali and Sacha.
#Moberlystars
#moberlystars20yearsandcounting
#didireallydriveoverathosandmilesin2weeksamicrazyorjustjudonuts?
https://moberlystars.com/wp-content/uploads/2018/04/IMG_20171105_215209.jpg
1564
1564
admin
https://moberlystars.com/wp-content/uploads/2021/07/WEb-site-logo-003.png
admin
2017-11-06 21:20:28
2023-05-13 16:17:34
Moberly Stars in Belgium, Wales and Harlow