Judo is an excellent form of anaerobic exercise that promotes strong muscles and connective tissues, increased flexibility, improved hand-eye co-ordination and balance.  It also teaches the importance of respect for others, as well as stressing the need for self-control and the promotion of discipline. Judo doesn't discriminate in that anyone regardless of body type or fitness can participate and enjoy the sport.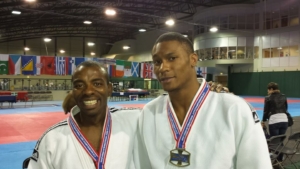 Moberly Sensei David Logan established Krazy Kids Judo Academy four years ago and provides Judo to children in schools across London, Berkshire and Hertfordshire. Krazy Kidz Judo Academy promotes Judo in a fun and challenging way and based on the essence of judo which demands discipline, respect, self-control and the building of self-confidence which are all attributes for a better sense of wellbeing.
Moberly Sensei Winnie Graham has been teaching in schools in Camden and Kensington and Chelsea since 2010.
Judo can enhance the children's learning, by promoting a sense of self-discipline and building character and self-esteem. Moberly Stars currently teach children with learning and behaviour difficulties and frequently receive glowing reports from parents and carers on the positive effect Judo has on their children.
We also pride ourselves on providing a strong anti-bullying philosophy. We believe that Judo enhances a feeling of inner strength and self-worth that can be a positive effect on the more withdrawn individuals who may attract unwanted attention.