Moberly Stars at the Bishops Stortford Team Championships
A massive well done to Bishops Stortford Judokwai for a truly excellent event today. The Bishop Stortford team event for teams of 3 players in combined weight categories (105k and 170k) provided plenty of excitement and drama, with excellent judo in a family friendly environment.
Two Moberly Stars teams took part in the boys lightweight (105k) category.
Kamal, Daniel and Max made up the A team, while Liam, Dinari and Luan​, the B team. Kyle and Nelson were reserves.
The A Team started with a 2-1 victory over the Bishop Stortford B team. Unfortunately, Kamal was injured in the next contest against Core Elite and had to withdraw while leading, however Daniel​ and Max​ ensured a 2-1 win. With Kamal injured, brother Kyle was brought into the A team and a 3-0 victory over the Bishop Stortford C team, followed by a 2-1 win over Pinewood A, set up a semi final with the Ealing Tiny Mighties. A hard fought contest saw the A team progress to the final with a 2-1 victory. Unfortunately, Max had to withdraw from the team and Nelson was promoted to the A team for the final.
After 3 gruelling contests the A team had to settle for silver.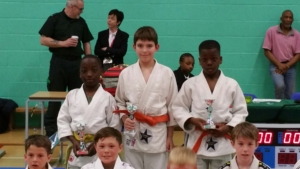 The B Team found this event to be a very tough one and went down 2-1 to the Pinewood B and Ealing Tiny Mighties. Dinari was injured in the 2nd contest and the team had to compete without a 3rd player as both reserves were now ineligible. The B team were defeated by the Bishops Stortford A team, but ended with a 2-1 victory over the Core Stars.
It was an excellent performance by all. Onwards and upwards.
https://moberlystars.com/wp-content/uploads/2021/07/WEb-site-logo-003.png
0
0
admin
https://moberlystars.com/wp-content/uploads/2021/07/WEb-site-logo-003.png
admin
2015-04-19 21:50:56
2023-05-13 16:17:36
Moberly Stars at the Bishops Stortford Team Championships