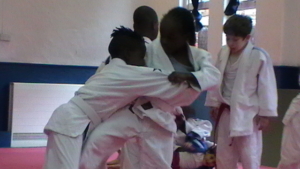 Moberly Stars aim to deliver term time Judo lessons that can be used as part of an after school programme within the school premises. We will provide hour long sessions, teaching Judo in a fun and challenging way with an emphasis on promoting confidence, while providing a disciplined, safe and secure environment.
Lessons will consist of an energetic warm up using a range of fun activities, teaching specific Judo moves, and controlled sparring sessions. The objective is to improve posture and balance, build and strengthen core muscles, improve co-ordination and increase body awareness, all attributes which align to the national PE curriculum, which is focused on developing the foundation ABCs (Agility, Balance and Coordination).
All coaches are fully qualified under the British Judo Association, enhanced DBS checked, 1st aid and safeguarding and protecting children certified.
Lessons can be delivered as part of a full term or half term program. Schools are encouraged to sign up for a minimum of one full term (autumn, spring or summer). Mats will be provided if the school does not have suitable equipment (funding applications can be made on behalf of the school to purchase mats if this is required).